Alumni
TJ welcomes alumni visitors on a regular basis but especially during Homecoming Week when the school is immersed in spirited activities culminating in a traditional Friday night football game at All-City Stadium.
With more than 55 years rich with history, TJ is still a place where you may find a familiar face. Some of our dedicated staff have been with the school for decades. Others are proud alumni and parents of alumni. Generations of Spartans and Spartan accomplishments line the hallways and trophy cases. Great people and decades of interwoven histories still make TJ feel more like family than a school.
TJ's Alumni help support the school in a number of important ways. From alumni giving to TJ's Community Partner Program, alumni provide critical resources to the school and unique opportunities to students.
We invite you to take a trip down memory lane, schedule a tour, or contact TJ to find out how you can support the latest and greatest Spartan happenings. Visiting alumni can sign in at the front office or call the main number at 720-423-7000 for information.
Remembering a Spartan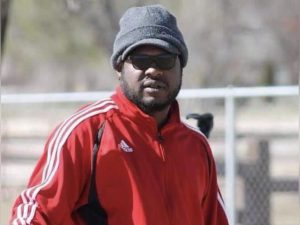 The TJ Spartan community recently lost beloved alumni, former staff member, and coach, James Nixon. He passed away last Saturday. James, or Coach James as many knew him,  was part of the class of 1999, worked as a paraprofessional, school resource officer, and  a coach for both the boys' and girls' soccer teams. He is remembered for his larger-than-life laugh and huge heart. 
There has been a Go Fund Me set up in his name to help with funeral expenses.
There will be a Memorial Game to celebrate James on April 30th at 4:00, location to be determined. Friends, alumni, players, are all invited to attend or participate – please fill out this form if you plan to play or attend. 
Services:
May 7th, 2022: 11:00 am Viewing, 12:00 pm – Funeral
New Direction Praise and Worship
12455 E Missisippi Ave suite 104
Aurora CO
Please wear a soccer jersey or other sports attire. 
Spartan Reunions
A sense of community lingers long after leaving the school that shaped our journeys. From 10-year to 50-year reunions, find out how to connect or reconnect through links below:
Class of 1972 – 50th Reunion Information
Class of 1970/1971 Reunion Information
Class of 1968 Reunion Information
Class of 1969 Reunion Information