Boys' Soccer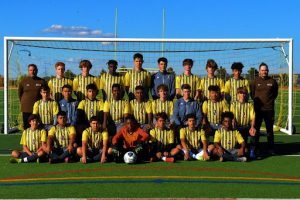 TJHS Boys Soccer Fall 2023
Summer Kick-Arounds- June 13th—August 4th Tuesday, Wednesday, Thursday 6-8pm on TJ Turf
**Weeks of June 19th and June 26th, Tuesday, Wednesday, Thursday 4-6pm on TJ Turf**
***Registration to play MUST be completed before you can try-out in August. This includes Online Registration, uploading your Sports Physical, and paying your Pay-to-Play fee. YOU MUST COMPLETE ALL OF THESE REQUIREMENTS. (If you attend a different school but plan to play for TJ Soccer, you need to complete a SWOP form as well – link to fill out student without a program form is on the Spartan Athletics website)*** REGISTRATION OPEN LATE JULY
Register Here: https://tjhs.dpsk12.org/athletics-home-2/
Important Dates:
August 7th and 8th : Tryouts on TJ Turf, Time:TBD (If you are unable to be at tryouts, we will provide individual tryouts when you are available)
August 9th : Team Selections
Meet the coaches:
Varsity Head Coach: John Thompson (Coach JT)
I have been with TJ Soccer since 2014 starting as the JV Head Coach. I became the Varsity Head Coach in 2018. TJ has made the playoffs 3 out of the last 5 seasons marking the most appearances in recent history. As a coach, I have my National "D" coaching license and am currently working on my National "C" coaching license. I started my coaching career when I was 16 years old here in Colorado working for Colorado Elite Soccer Club. I played club soccer for Real Colorado, Rapids Academy and played at Douglas County High School. I then went on to play 4 years of college soccer in the Pacific Northwest at Pacific Lutheran University. Outside of TJ Soccer, I like to stay active in the weight room, on the golf course, and in indoor soccer. I do not teach at TJHS but instead work in the private sector.
Varsity Assistant Coach: John Thompson (Coach OT)
Coach JT invited me to assist with the TJ Soccer Program in 2018 as the Assistant Varsity Coach. As a coach, I have my National "D" license. I have coached boys and girls in Colorado since 1989 with Littleton, Real Colorado and Colorado Elite. I was honored as the Colorado Boys Developmental Coach of the Year in 1999. My entire coaching career was with Club Soccer until Coach JT recruited me.
I played club soccer in Washington State at Thomas Jefferson HS (Federal Way, WA), and college soccer at Green River College. Showing my age, after the NASL folded in the US, the only semi/professional soccer was the West Coast Alliance. I played in the Seattle Storm Program for a couple of years. When I moved to Colorado, I tried out for and was asked to play for the Colorado Foxes. Unfortunately, my wife told me no as we had children on the way. I do not teach at TJHS but instead work in the Healthcare Tech Sector.
Junior Varsity Head Coach: Brendan Crowley
This will be my 2nd season with the TJ Boys Soccer program, after joining Coach JT & OT in Fall '22. Our JV program continues to grow in both size and expectation, as we went from a winless season in '21 to a 7-7-1 record in '22. As a coach, I am working towards my National "D" coaching license through US Soccer; I also coach Boys Lacrosse in the spring here at TJHS. As a high school player, I lettered in both Soccer and Lacrosse for 3 seasons, winning a State Championship in Boys Soccer in 2005. I went on to play college lacrosse at SUNY Geneseo in Upstate, NY, where I graduated with Bachelors and Masters degrees in Education. I currently work as a Special Education Teacher here at TJHS. Outside of teaching and coaching, I enjoy skiing, golfing, and trail biking. I have so enjoyed becoming a member of the TJ community as a teacher, coach, and supporter of all student-athletes, and feel grateful to continue leading our Boys Soccer program towards excellence within our fun and competitive playing environment.
Sports Performance Trainer: Bobby Cuellar
Originally from San Diego, CA. Graduated Eaglecrest High School class of 2005. Joined the Navy (I come from a long line of Navy Vets) and got out in 2011. Did some oddball jobs but ultimately went to school and received my Bachelors in Exercise Science and Minor in Tactical Sports Performance. Currently operate my own personal training business and I am also the head trainer at Anytime Fitness Aurora.
Schedule and Stats:
http://dpscalendars.org/public/genie/757/school/11/
http://www.maxpreps.com/high-schools/thomas-jefferson-spartans-(denver,co)/soccer/home.htm