Boys' Soccer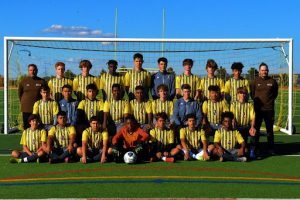 TJHS Boys Soccer Fall 2022
***Registration to play MUST be completed before you can try-out. This
includes Online Registration, uploading your Sports Physical, and paying your
Pay-to-Play fee. YOU MUST COMPLETE ALL OF THESE REQUIREMENTS. (If you
attend a different school but plan to play for TJ Soccer, you need to complete a
SWOP form as well – link to fill out student without a program form is on the Spartan Athletics website)***
Register Here: https://tjhs.dpsk12.org/athletics-home-2/
Important Dates:
August 8th and 9 th : Tryouts 4-6pm on TJ Turf
August 10 th – 19 th : Training 4-6pm on TJ Turf
August 10 th : Team Selections
August 10 th : Parent Meeting 6:15-6:45pm after practice on TJ Turf
August 13 th : Varsity and JV Scrimmages @ Cherokee Trail High School (must provide your own
transportation)
August 18 th : First Official Competition
August 22 nd : First Day of School for Freshman
August 23 rd : First Day of School for Sophomores, Juniors, Seniors
August 22 nd – October 23 rd : Training 3-5pm after school Monday-Friday on days without games.
Game Schedule is still being completed, but you can find the schedule on these
sites below: **Transportation provided to some away games – transportation will be determined by DPS availability. When transportation is not provided by DPS it is the family's responsibility to get your student-athlete to the event.
 https://dpscalendars.org/public/genie/757/school/11/ (You can select the
schedule for each team on the right side of this page under "View
Schedules")
 Varsity Schedule: https://www.maxpreps.com/co/denver/thomas-
jefferson-spartans/soccer/schedule/
 Junior Varsity Schedule: https://www.maxpreps.com/co/denver/thomas-
jefferson-spartans/soccer/jv/schedule/
Try-Out Information
o   Start Date: August 8th, 2022
For more information please email Coach JT at: thompsjc@plu.edu
About the Coaches:
Varsity Head Coach: John Thompson (Coach JT)
I have been with TJ Soccer since 2014 starting as the JV Head Coach. I became the Varsity Head Coach in 2018. TJ has made the playoffs 3 out of the last 5 seasons marking the most appearances in recent history. As a coach, I have my National "D" coaching license and am currently working on my National "C" coaching license. I started my coaching career when I was 16 years old here in Colorado working for Colorado Elite Soccer Club. I played club soccer for Real Colorado, Rapids Academy and played at Douglas County High School. I then went on to play 4 years of college soccer in the Pacific Northwest at Pacific Lutheran University. Outside of TJ Soccer, I like to stay active in the weight room, on the golf course, and in indoor soccer. I do not teach at TJHS but instead work in the private sector.
Varsity Assistant Coach: John Thompson (Coach OT)
Coach JT invited me to assist with the TJ Soccer Program in 2018 as the Assistant Varsity Coach. As a coach, I have my National "D" license. I have coached boys and girls in Colorado since 1989 with Littleton, Real Colorado and Colorado Elite. I was honored as the Colorado Boys Developmental Coach of the Year in 1999. My entire coaching career was with Club Soccer until Coach JT recruited me.
I played club soccer in Washington State at Thomas Jefferson HS (Federal Way, WA), and college soccer at Green River College. Showing my age, after the NASL folded in the US, the only semi/professional soccer was the West Coast Alliance. I played in the Seattle Storm Program for a couple of years. When I moved to Colorado, I tried out for and was asked to play for the Colorado Foxes. Unfortunately, my wife told me no as we had children on the way. I do not teach at TJHS but instead work in the Healthcare Tech Sector.
Schedule and Stats:
http://dpscalendars.org/public/genie/757/school/11/
http://www.maxpreps.com/high-schools/thomas-jefferson-spartans-(denver,co)/soccer/home.htm