Cheerleading
Winter Blast: 1st Place and Grand Champs 2022-2023
DPS League: 2nd Place 2022-2023
DPS League: 2nd Place 2021-2022
 DPS League: Co-Ed Champions 2016-2017
TRYOUT FOR THE 2023-2024 SPARTAN CHEER SQUAD!
Tryout Information:
Clinic Day: Monday, May 15th 3:30-5:30pm
Clinic Day: Tuesday, May 16th 4:30-6:30pm
Tryouts: Friday, May 19th 3:30pm
Tryout Fee: $35 – this fee goes toward covering the cost of tryouts and goes to the team fund. Non refundable. Pay the fee online HERE, or bring to coach Parker on the first Clinic Day.
*If you are unable to pay the full fee please reach out to Natalie Parker at tjspartancheer@gmail.com.
TRYOUT PACKET: TJ Tryout Packet and Handbook 23-24.docx
See the flyer for more details!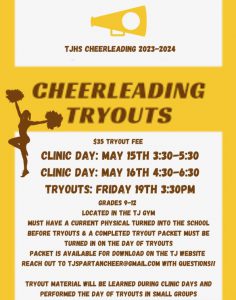 Head Coach TBD