Football
Congratulations to TJ Football: 2020-2021 State Champions!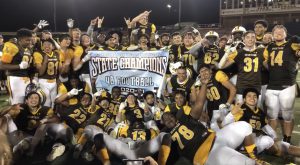 LAST CHANCE FOOTBALL REGISTRATION CLICK HERE. Registration will close September 3rd at 9pm.
ALL CITY STADIUM STREAMING: Here is the link for anyone wanting to get onto MuscoVision to watch from their home: There is a fee involved.
https://www.muscovision.com/facility/48
PURCHASING TICKETS TO ALL CITY STADIUM GAMES: We have moved to electronic ticketing through Ticket Spicket.  Here is the link to purchase tickets to your upcoming game:
https://spicket.events/thomasjefferson
Head Coach: Mike Griebel
mike_griebel@dpsk12.org
Coach Griebel began coaching in 1983 at Heritage High School and spent 32 years there, 20 of those as the head football coach.  Coach Griebel has coached many different skill sets, including multiple players who went on to play in the NFL.  He has compiled 243 career wins thus far and his teams have made 13 state playoff appearances, winning six league championships with five Quarter-Final finishes, one Semi-Final appearance, and a 4A State Championship title in 2009.  He has been a varsity assistant at Columbine High school since 2014.
Coach Griebel stated, "I'm excited to head a program that is rich in football tradition.  I spent my childhood in DPS and grew up playing on TJ feeder teams.  It just felt like the right fit to come full circle and finish where I started.  My goal was to leave Heritage and Columbine better than when I got there, and I think I did that.  It will be my same goal here at TJ and I can't wait to get started."