Lacrosse
Welcome to the Thomas Jefferson Lacrosse team page!
Lacrosse practice will take place from 4-6 pm unless a there is a game that day or special event.
We will be practicing in the following locations in order of availability.
The turf field surrounded by the fence.
The upper grass field near the tennis courts
Jefferson Square Park
Special event practices or film sessions will take place in Room 225 at 4 pm as communicated through the remind app by Coach Klimczak.
Head Coach – Jason Klimczak
The 2019-2020 season will be the 6th season for Coach Klimczak at Thomas Jefferson High School. After being the head JV Coach at Highlands Ranch High School for 6 years Coach Klimczak was given the reigns to restart a TJ program that had not had a their own lacrosse team for over 10 years.  He has spent the first few seasons building a family culture with the team and that has led to great success on and off the field. Coach Klimczak has also won the Denver Public Schools lacrosse coach of the year awards for the 2016, 2017, and 2019 seasons. He has also been named the Metro Conference Coach of the years of 2017 and 2019. When he's not coaching, Coach Klimczak likes to spend time with his wife Christina and family, watching movies, and playing video games.
Assistant Coaches
Tyler Doskins (Head JV Coach/Offensive Coordinator)
Coach Doskins will be joining us for his third year at TJ. After being a 4 year letter-winner at Highlands Ranch where he was an All-Conference Attackmen all four years, Tyler went on to play at CSU where he was a part of the back-to-back National Championship lacrosse team. Tyler has also been selected as 2 time (2018, 2019) Metro Conference Assistant Coach of the year.  Coach Doskins will work with the offense to be more dynamic and work together to score goals. When Tyler isn't coaching you can find him snowboarding, golfing, and playing lacrosse.
Sean Hofer (Assistant Coach/Co-Defensive Coordinator)
The 2019-2020 will be Coach Hofer's 5th season at TJ. After previously playing at Denver East and coaching youth teams in the Denver area. Sean has been a part of the resurgence of the TJ lacrosse program the past few seasons. Focusing on fundamentals and positioning, Sean works tirelessly with the defense to make sure that the defense works as one unit and not just as individuals. When Coach Sean is not coaching he likes to spend time with his children Keegan, Amelia, and Maggie, go fishing, and play some "old man's lax" whenever he can.
Justin Klimczak (Assistant Coach/Co-Defensive Coordinator)
This will be Coach Justin's fourth season with TJ. After being a 3 year letter-winner at Highlands Ranch High School, Justin went on to attend Colorado State University and play on two National Championship lacrosse teams at CSU. Justin brings a defensive mindset and helps the overall team defensive scheme with his previous playing experience. Justin likes to participate in snowboarding, spend time with his fiancé Emily, tennis, and lacrosse when he's not helping coach.

Jake Downing (Assistant JV Coach/Goalies)
Coach Downing will be in his 2nd year at TJ. Jake is a 2018 graduate of Thomas Jefferson High School where he played both football and lacrosse. Jake was a 4 year starting goalie for TJ where he racked up over 30 wins in his career. Multiple time All Conference selection and All State selection his senior year, Jake works primarily with the goalies and the defense with the team. Jake is currently attending and playing lacrosse collegiately at the Metropolitan State University of Denver. When Coach Downing is not doing something related to lacrosse he is enjoying playing music, eating food, and hanging out with friends and family.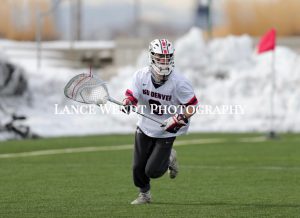 Justin Vigil (Assistant JV Coach/Midfielders)
This will be Coach Justin's second season with TJ. Justin is a 2017 graduate from Thomas Jefferson high school where he excelled at various sports such as football, track, and lacrosse. Excelled as a defensive midfielder earning 2nd team all conference honors in his senior season for lacrosse. Outside of coaching, Justin likes to go swimming, spend time with family, go to the mountains to hike/be in nature.