Volleyball
Class 4A State Qualifier
2013, 2016, 2017, 2019
Class 4A Regional Qualifier
2012, 2013, 2014, 2015, 2016, 2017, 2018, 2019, 2020, 2021, 2022 
Donate to the girls volleyball program by
clicking HERE
to help the team! Your support is appreciated!
Donate to the boys volleyball program by
clicking HERE
to help the team! Your support is appreciated!
Please visit the Volleyball Spirit wear store! This fundraiser is open until August! 
GIRLS VOLLEYBALL TRYOUTS:
Tryouts are Monday 8/7 and Tuesday 8/8.
4-4:30 Check-in
4:30-6:30 Tryouts
Pick-up promptly at 6:30
All Tryouts will take place at:
303 Volleyball Academy
82 Inverness Dr. E Englewood 80112
FamilyID Approval is required for participation! NO EXCEPTIONS
Boys Volleyball:
Join the team Remind for updates
Text: @TJboysvol
to: 81010
Please visit the TJ Volleyball specific Website, run by the coaches for the most up to date information throughout the summer and season!  It is live and ready! Thanks to Jordan for all of her hard work!
Social Media:
/TJvolleyball (Facebook)
@tj_vball (Instagram)
Head Coach: Denny Bryan 
email: coachdennybryan@gmail.com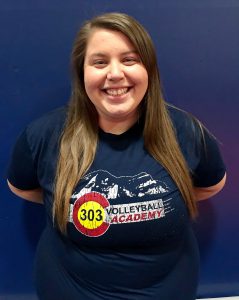 Denny was born and raised in Denver, Colorado where she graduated from Highlands Ranch High School in 2008. After playing all 4 years in high school, 6 years of club, and despite having opportunities to play in college, Denny opted to go to school locally at the University of Colorado Denver. Her 12 year coaching career began her freshman year of college.
Denny spent 7 years with Highlands Ranch High School where she coached every level from freshman to assistant varsity. The past 5 years, Denny has been with Thomas Jefferson High School where 303 VBA Academy Director, Erik Rhee, was the former head coach. At TJ, Denny has helped all levels. Denny's decision to coach is a result of the impact all of her coaches had on her and the amazing memories she made playing club and in high school. She wants to give back to the sport and community that provided her with so many great experiences. She truly believes coaching volleyball is a special opportunity to help our youth learn so much beyond the sport.
 Denny has coached at Nuu Sky Volleyball Club, Five Star Volleyball Club, and 303 Volleyball Academy. She has coached a range of ages and levels from 12s to 18s.
For the 2019-20 season, Denny coached JV at TJ and was the head coach for the 14 Alpha team and 17 Bravo team at 303 VBA. This will be Denny's seventh year of coaching at 303 VBA.
Denny and her husband, Benjamin, have a 4 year old daughter named Makenna. In her free time, Denny still loves to play volleyball with her husband and friends. She also enjoys being in the mountains, swimming, road tripping, and spending time with her family and friends. 
Below: Team Pic from Historic 2013 Season – State Qualifier, first DPS team in 29 years to make it to State. (Front L to R: Julia Turnbow, Jordan Graham, Makaila Roybal, Sabrina Kohrt, Celeste Henderson. Back L to R: Essence Reece, Coach Verna Julaton, Coach Kathleen Nickless, Celeste James, Jessica Jackson)